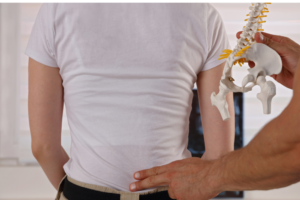 When compressed, nerves send signals to the brain that could result in pain. "Compressed" nerves are more commonly known as pinched nerves. It only takes a slight change in the configuration of your nerves to cause a significant amount of pain or discomfort.
If you find yourself in sudden pain or discomfort, especially if this pain radiates down a limb, it's possible that you're suffering from this issue. 
But how do you know?
We've put together a guide covering what a pinched nerve is, how to know if you have one, and what your treatment options are. If you are in severe pain, or find that your symptoms don't resolve within 2-3 weeks, we recommend seeking medical treatment. 
What Is a Pinched Nerve? 
A pinched nerve refers to any nerve that is under pressure. In the spine, nerve roots run through the vertebral column, and are surrounded by bone, cartilage, and soft tissue. Small changes in surrounding tissue can be enough to put pressure on the nerve and cause significant pain and discomfort. 
The nerves of your limbs (for example, your median nerve in your wrist) can also become pinched by local changes to the tissue, such as inflammation and swelling of the connective tissue. This is commonly referred to as carpal tunnel syndrome, and often results from repetitive work such as typing. 
Common Sites Where Nerves Can Become Compressed
Pinched nerves can occur anywhere in the body. 
The problem with a pinched nerve is that the pain or discomfort you feel will most likely not be where the nerve is actually under pressure. For example, if the impacted nerve is in your lumbar back area, it can send a false signal to the brain that your hip or leg is in pain. 
Most pinched nerves originate in the neck (cervical spine), upper middle back (thoracic spine), or lower back (lumbar region). Pinched nerves also commonly occur in the hand, elbow, and wrist. 
Signs and Symptoms of a Pinched Nerve
Some pinched nerves are chronic, and may worsen over time, while other pinched nerves occur suddenly, such as due to an injury or sudden herniation of a disc. This means that you could notice a gradual increase in pain and symptoms in the affected area, or that the onset of pain and symptoms could be sudden.
In general, a pinched nerve causes the following symptoms in the affected area: 
Muscle stiffness or weakness

Sore muscles 

Sharp, aching, or burning pain that could radiate down a limb or part of a limb

Tingling and numbness, which could radiate down the limb
The origin of the pinched nerve will determine the location of the pain and some of the symptoms: 
Cervical Spine:

The pain could be in your neck, shoulder, or arm, and could radiate down the arm into the fingers. You could also have a stiff neck, and the pain and numbness could affect the arm and shoulder.
Thoracic spine:

The pain could be localized to your chest. However, with chest pain, it's always best to call a healthcare provider or go to your nearest emergency room, as this could also be due to a heart attack or underlying cardiac condition.
Lumbar spine:

Pain in the back, hips, buttocks, and legs. You could also experience soreness and stiffness in these regions.
Median nerve:

Pain or numbness and weakness in the fingers, hand, and elbow. The pain does not generally radiate further up the arm, and is not accompanied by neck soreness or stiffness. 
What Causes a Nerve to Become Compressed
In general, the symptoms of a pinched nerve are due to pressure that is placed on a nerve root in the spine or radiating nerve in the limbs, such as in the carpal tunnel. This can occur after even slight changes in the surrounding bone and cartilage tissue. 
Pinched nerves are frequently caused by one or more of the below contributing factors: 
Rheumatoid arthritis or other inflammatory conditions

Normal aging that can cause spinal discs to flatten

Sudden accident or injury that causes a herniated disc, which collapses to place pressure on the nerve

Repetitive motion tasks, especially for compression of the median nerve

Diabetes, which can damage the nerves

Obesity or pregnancy, in which excess weight can compress nerves
Resolution and Treatment Options for a Pinched Nerve
In some cases, a pinched nerve can resolve on its own. The following at-home treatments can help:
Cold compresses in the affected area (i.e. the source of nerve compression; for example, the affected region of the spine)

Warm compresses to relieve muscle stiffness

Over-the-counter pain relief

Rest 
Again, if the pinched nerve does not resolve on its own in 2-3 weeks, or if the pain you're experiencing is severe or debilitating, seek help from a medical professional.
At Atlanta Spine, we can identify the root cause of your pinched nerve and develop a treatment plan to relieve the pain and symptoms, as well as to realign your spine to prevent additional pinched nerves in the future. 
Depending on the cause of your pinched nerve, a variety of treatment options can be used: 
Pelvic alignment and core stabilization

Physical therapy

Prescribed home exercises and stretching

Ruptured or herniated disc treatment

Minimally invasive surgical approaches

Steroid injections to relieve inflammation and swelling at the site of injury

Disc replacement
The right course of treatment for your pinched nerve will depend on its root causes, and the severity of your injury. Schedule a consultation with Atlanta Spine Clinic to assess your pinched nerve and develop a treatment plan.