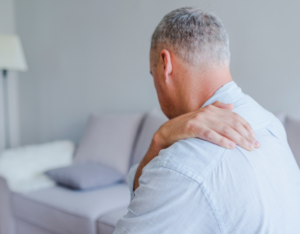 At some point in your life, you're likely to experience middle or upper back pain to some degree. In some cases, it might go away on its own or with conservative home treatments. In other cases, middle and upper back pain requires medical or surgical intervention to resolve.
If you're suffering from middle upper back pain, here's what to know regarding symptoms, possible causes, treatment options, and likely prognosis. 
What Is Middle and Upper Back Pain?
Upper back pain occurs below the neck and above the ribs, in a region known as the thoracic spine. There are 12 vertebrae in this region — the T1 to T12 vertebrae. 
When the bones, muscles, ligaments, and disks in this region are injured or disrupted, this can irritate the nerves of the spine, causing back pain.
How You Might Experience Middle or Upper Back Pain
Everyone experiences upper back pain differently, and your exact symptoms will depend on the cause of your pain. 
You might experience the following symptoms in your mid/upper back region:
Muscle aches

Dull pain

Sharp or stabbing pain

Muscle stiffness or tension
More severe and serious symptoms of upper back pain include: 
Tingling, numbness, or pain in the legs, arms, or chest

Chest pain (be sure to rule out heart problems such as a heart attack immediately in this case)

Weakness in the arms or legs

Loss of bladder or bowel control
Middle or Upper Back Pain Causes
Your upper back pain could be due to an injury, or could be occurring due to a combination of several different chronic factors. 
Poor Posture
Repeated pressure on the spine, such as that exerted by poor posture, can ultimately lead to back pain. 
When you slouch in your chair, such as during prolonged computer work, the muscles and ligaments in your back are hard at work to accommodate the pressure on your spine. Overworking these muscles can lead to aches and pains in the mid/upper back. 
Obesity
Obesity increases the pressure on the bones and ligaments of the spine, and studies have shown that increased body mass is linked to increased back pains of all kinds, including neck pain, mid/upper back pain, and lower back pain.
Sprain or Strain
A sprain is caused by tearing or stretching injuries of your ligaments, while a strain is caused by similar injuries to the muscles or tendons. 
Regular lifting of heavy objects, especially without proper form or safety precautions, can lead to these sorts of injuries. 
Fall or Other Sudden Injury
In a fall, the middle back is less likely to be injured than the cervical spine (neck) or lumbar spine (lower back). This is because the thoracic spine (mid back) is more structured and rigid than these other regions.  
However, injuries to this location can occur after severe impacts, such as in the following accidents: 
Hard fall, such as down stairs or from a height

Auto accident

Blunt force trauma, such as in a construction accident

Sports accident
Herniated Disc
Gel-like discs of cartilage sit between the vertebrae of your back, which serve to cushion the joints. Damage to these discs, known as a herniated disc, can put pressure on nerve endings, resulting in pain, tingling, or numbness that might radiate out to the limbs. 
Diagnosing the Cause of Your Middle or Upper Back Pain
If your mid/upper back pain is severe, or has lasted more than a couple of weeks, it's time to head to the doctor to see what might be going on. 
A doctor will take your full medical history, including any recent accidents or injuries, and perform a physical exam. He or she will then likely order neurological and imaging tests based on these findings.
Imaging studies produce images of the inside of your body, allowing the doctor to identify potential areas of tissue damage or inflammation. Neurological tests examine the function of the brain and spinal cord, and can help the doctor identify functional defects.
Treatment Solutions for Your Middle or Upper Back Pain 
Middle or upper back pain is debilitating, and can impair your ability to do your job, or simply to enjoy and complete daily activities. Fortunately, a number of treatment strategies can be used to reduce pain, and potentially to restore function in the region for a full recovery. 
We will evaluate your case and determine the best course of treatment for your upper back pain. The correct treatment will depend on the root cause of your pain and the severity of your injury or symptoms. 
Supportive Care
Sometimes, we're best off letting the body heal itself. Supportive at-home care can help mild injuries resolve on their own. 
At-home care could include:
Alternated cold and warm compresses

Over-the-counter pain medications such as ibuprofen or acetaminophen 

Exercises such as yoga to stretch and strengthen the back muscles
Medical Treatments
If you back pain is severe, or persists after supportive care, your doctor might recommend one of the following medical treatments: 
Physical therapy

Chiropractic care

Steroid injections

Prescription painkillers or muscle relaxers for short-term use
Surgeries
If non-invasive medical treatments don't sufficiently relieve your back pain, surgical interventions could be the best treatment option.
The correct surgical intervention will depend on the root cause of your upper back pain. This can range from minimally invasive spine surgery to disc replacements to more complex surgical procedures. 
If you find yourself suffering from middle or upper back pain, it's best to get the help of a professional as soon as possible. This will avoid further injury to the area, and allow you to address the root cause of your pain before it becomes a chronic, ongoing issue. 
Reach out to schedule a consultation so that we can evaluate your case and help you select the best treatment approach for you.