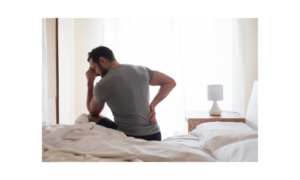 Lower back (or lumbar region) pain can occur due to a variety of reasons and can last anywhere from a few days or weeks to an indefinite period of time. 
Typically, discomfort lasts as long as it takes to heal from injury or eliminate the cause, but in some cases, it can be an indicator of a chronic condition. 
Each of the three most common causes of low back pain can usually be resolved through a combination of in-clinic and at-home treatments:
Lower back injuries

Pregnancy

Chronic conditions
Most of the recommendations offered by the Atlanta Spine Clinic include some element of immediate relief and a goal for more long-term results. Often, that means tailoring treatment plans to include massage and exercise components. 
Pain from Lower Back Injuries
Muscle strains and sprains are the number one cause of pain in the lumbar region. The primary reason for this is that these are the muscles that support nearly the entire weight of your upper body – while also constantly moving, twisting, and bending throughout even normal daily activities.
While a strain refers to the abnormal or over-extension and/or tearing of muscle tissue itself, a sprain occurs when the ligaments connecting that muscle tissue to the bone are torn.
The good news is, the likelihood of making a full recovery is high. In fact, with appropriate treatment, nine out of 10 patients recover completely within 30 days. Until then, you have options for more immediate pain relief as well.
How Do I Relieve Lower Back Pain from Injuries?
The keys to minor lower back pain relief are staying active and gentle stretching. If that isn't quite enough, you can try adding an over-the-counter oral or topical medication for a few days. When your pain seems to persist for more than a week, seek professional advice. 
Your spinal care specialist can provide an in-depth evaluation of the underlying cause(s) of your back pain, and will likely recommend a combination of in- and out-of-home treatment. Here are some of the most commonly prescribed treatment plan components:
Spinal Clinic Treatment: Pelvic Alignment and Core Stabilization
Pelvic alignment is one of the most effective ways to provide some immediate relief for your low back pain. It involves stretching out the vertebrae to relieve pain caused by compression on the nerves in your lower spine. 
You will also be provided with instructions for a number of at-home exercises to help strengthen all of your core muscles in order to provide the support your spinal column needs.
Massage Therapy: Hot Stone Massage
Between clinic visits and core strengthening, you may consider incorporating a hot stone massage regimen. To relieve lower back pain, a massage therapist will place or hold heated stones along your lower spine while using any number of Swedish massage techniques. 
Their warmth relaxes strained and overworked muscles, and sometimes the masseuse will alternate hot and cold stones to energize blood flow and reduce inflammation. 
If your spinal specialist discovers something more serious than a simple lower back strain or sprain, they may suggest you consider a minimally invasive procedure like injections or endoscopic surgery.  
Lower Back Pain During Pregnancy
Any number of contributing factors can leave you experiencing lower back pain while you're pregnant. Three of the most common are: 
Shifting and loosening joints due to hormonal increases

Additional weight gain

The shift of your center of gravity (and thus your posture)
Most of the time these factors contribute to resulting sciatica compression and/or muscle strain and fatigue. While lower back pain is considered "normal" during pregnancy in the sense that it occurs often among expectant mothers, that doesn't mean you should suffer through it. 
How Do I Relieve Lower Back Pain Related to Pregnancy?
Often the best options to help relieve your back pain during pregnancy are those you can manage at home with a partner or on your own. 
In-Home Treatment: Back Support and Regular Activity
Alternating ice packs and heating pads at home can relax tired, overworked low back muscles and reduce inflammation. Consider stretch belly braces and other support devices to help. 
To relieve pressure on your sciatica (and to maintain an open vena cava), sleep on your left side. Pregnancy pillows can help keep your hips aligned while you sleep, and regular exercises (walking is actually the best form) will allow your body to adjust to pelvic shifts as you grow. 
Massage Therapy: Prenatal Massage
The goals of prenatal massage are similar to normal body massage: relax tense muscles, promote circulation, and reduce inflammation and swelling. That being said, there are adjustments made to ensure the safety of you and your child. Certain positioning and pressure points are avoided as well.  
If you are generally healthy during pregnancy and continue to maintain your health throughout pregnancy and afterward, your lower back pain should minimize fairly soon after birth.
When your lower back aches and pains seem to persist beyond a couple of months after birth, it may be time to consult a spinal professional.  
Chronic Conditions Causing Lower Back Pain
Most of the time, lower back pain stems from temporary and curable circumstances, but there are a number of chronic conditions that patients are either born with or that develop over time.
A few you've likely heard of include:  
Degenerative disc disease

Diabetes, various forms of arthritis, and other spinal infections

Fibromyalgia

Severe traumatic injury

Skeletal irregularities (like Scoliosis)

Spinal stenosis
These conditions, if addressed early, are often successfully managed with progressive treatment.
How Do I Relieve Lower Back Pain Caused by a Chronic Condition?
Because of the breadth of chronic conditions, there really aren't any "general" treatment plans we suggest. When you are suffering from lower back pain that is linked to a chronic condition, your treatment plan should be highly specialized and tailored to you.
Degenerative Disc Disease Requires Progressive Treatment 
For example, pain management planning for a progressive condition like DDD will probably need periodic updating in order to address new issues as they arise. What starts as a physical therapy regimen and possible steroid injections could end in a minimally invasive spinal fusion.
Chronic Illnesses Often Call for a Holistic Approach
On the other hand, when your back pain is a symptom of a chronic illness like diabetes, your spinal specialist will work hand-in-hand with your other medical professionals (like your general practitioner, nutritionist, and physical therapist). 
They will develop a holistic approach to relieving your pain and other symptoms while working to improve the underlying condition.  
Even your exercise program will include exercises deemed safe in your particular circumstances. An exercise routine for DDD wouldn't include deadlifts, for example, while someone suffering from fibromyalgia might require a less frequent routine than a diabetic.