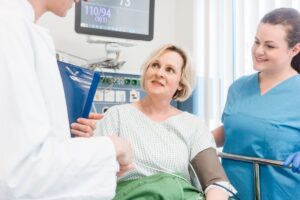 The success of your spinal treatment depends heavily on how well you adhere to your orthopedic surgeon's recovery plan. While the earliest stages of recovering from back surgery involve heavy restrictions against bending, lifting, twisting — even driving — those first few days post-op look much different than just a few weeks (and especially a few months) later.
The closer you follow your personalized recommendations, the more likely you will experience dramatic reductions in pain and other associated symptoms. You should also see significant improvement in the ability to participate in day-to-day activities over time. Upon full recovery, most of Atlanta Spine Clinic's patients are able to return to work and pre-surgery activities as normal. 
That said, it is important to maintain realistic expectations about what recovery looks like for you, how long it will take to get there, and what you need to do to ensure it happens.
What to Expect When Recovering from Back Surgery
Regardless of the type of back surgery you have, there are some basic first-aid maintenance and hygienic practice requirements that must be met in order to ensure your best recovery. 
Basic First-Aid Maintenance
Your surgeon will cover the exact protocol in watching, cleaning, and dressing your wound, but typically your initial bandage or tape will come off within the first week to 10 days after surgery. After that, most patients are allowed to remove the bandaging themselves. 
Signs of Infection
You may feel numbness, soreness, or mild pain around the incision site, and there may be a bit of swelling and redness. This is all normal. Keep the area clean and dry as prescribed by your doctor. Signs you're looking for during your daily care routine are: 
Increased

redness, swelling, or drainage of excess fluid

If the skin feels warm to the touch

Whether the incision appears to be reopening
These are all signals of infection, and you need to reach out to your surgeon immediately for advice. 
Advice Worth Repeating: DON'T SMOKE!
Smoking and using tobacco products significantly slows your body's natural healing process. This can be especially troublesome for those recovering from more serious procedures — including fusions and grafts.
Pain Management
In addition to keeping the area clean and healthy, you may also need to manage varying levels of pain throughout the recovery process. That first prescription your surgeon writes at the hospital? Fill it immediately so you have something on hand. 
When you have an activity planned that might cause significant pain (physical therapy, for instance), take the medicine about 30 minutes prior to start time. 
Physical Activity
Once those two areas of recovery are addressed, it's time to think about how physical activity may affect your recovery plan. You're going to initially need to change how you do things. This includes but is not limited to: 
How long you sit or stand

The position(s) you sleep in

Whether and when you can resume sexual activity
Plan on needing physical assistance for nearly every task — even getting out of the bed, getting dressed, and using the restroom — at least in the beginning.
General Rules of Acceptable Physical Activity
Initially, there are very few activities you should be doing while recovering from back surgery. In good time though, a good rule of thumb is to limit yourself to activities that meet the following criteria: 
Activities that do not cause pain

Motions that do not jar the spine 

Movements that do not require extreme ranges of motion
Basically, if it doesn't feel good on your back, you shouldn't be doing it right now — or really ever. 
No Pain, No… Pain
This includes the kind of pain that doesn't surface until a few hours to a few days later. Stay in tune with how your spine feels as you move through your day to ensure proper protection and care. 
Avoid Jarring the Spine
Depending on the location of your surgery site and severity of the condition, barred activities can range from simply riding in a car or walking to heavy running and jumping. 
Stay within a Safe Range of Motion
Note that when talking about an extreme range of motion, the word "extreme" can easily be within the confines of "normal" human range of motion right now. It depends on your personal circumstances and recovery needs.
Over time, your customized treatment plan may include walking up 1-2 miles a day and/or incorporate a physical therapy program. If you have specific questions about what you should or should not be doing while recovering from back surgery, contact your spinal clinic.
In the meantime, there are a few general tips for speedy healing that apply to every spine surgery patient in recovery.
Four Tips for Ensuring Your Best Back Surgery Recovery
The professionals at Atlanta Spine Clinic have treated thousands of patients suffering from debilitating back pain. The answer for many has been some type of minimally invasive surgery. 
From our vast pool of experience, we've developed a sense of what our patients have done to achieve a speedier, more successful recovery. 
Listen to Your Body
You had back surgery. This is a big deal. Your body is working hard to ensure the safety and well-being of one of the most vulnerable parts of your vital systems. Trust yourself. Honor your body's fatigue. Take things slowly. Rest often. We promise it will help. 
Put Needless Worry on a Shelf
Oftentimes, we get calls from patients very early on in surgical recovery. Understandably, they are worried about pains or tingling sensations in unexpected places. They are afraid the surgery didn't work, and that they went through the experience for nothing. 
Here's the thing. This isn't the same as getting Lasik, where you wake up the next morning with 20/20 vision. Keep calling. Keep asking. All of that is perfectly okay. It helps us keep a close watch on signs of real trouble. But we also want to say now — it takes time. Chances are, everything you're feeling is normal. 
Ask for and Accept Offered Help
When you researched and planned for this surgery, we imagine you weren't thinking you would go it alone. In fact, here at Atlanta Spine Clinic, we recommend at every step that you have a trusted network of family and friends to help. Use them. 
If a family member says they want to stay with you and take care of you, let them. If friends ask to bring food over or to help around your home, say yes! And when your doctor prescribes temporary assist devices like a cane or back brace, use them as prescribed.  
Stay the Course on Your Recovery
For the next few months, at least, you may experience good and not-so-good days. That is how recovering from back surgery feels. Remember, you have just come out of a procedure that, no matter how minimally invasive, required surgical manipulation of tissues that touch, house, and protect some of your most vital organs. 
Take care of yourself through recovery in order to maximize the benefits of such a huge decision as back surgery. By staying the course with your surgical professional's recovery plan, and trusting your body's internal process, you're sure to get back to a sense of normalcy soon enough — you've already come this far!